New Year Open 2019
Saturday 19th Jan – Saturday 9th March
Featuring a variety of work from emerging and established artists.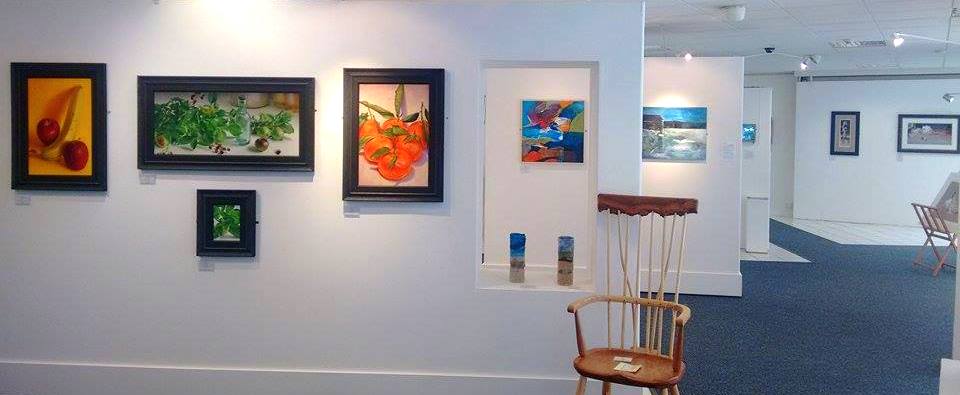 Daniel James Yeomans
Daniel paints from life under natural light at his purpose built studio in Montgomeryshire, Wales, where his sitters are immersed into the world of classical portraiture, enchanting and unchanged since the renaissance. As well as specialising in in portrait commissions Daniel spends much of his time travelling and painting landscapes. Some of which, hang in collections throughout Europe, Asia & America.


Reg Turrell
"I treat every painting as an adventure. Some of these excursions end in failure but a few take me on exciting journey.
During these adventures I explore different techniques, push the boundaries of watercolour and experiment with other materials added to the paint.

I don't set out to represent a subject. All the time I am interpreting my response in an inventive way that expresses how I feel.
One of the joys of working in watercolour is that it produces exciting and unpredictable results. The secret is to go with it and let it take you to the unknown."
Judith Samuel
"I am an artist who loves painting in lovely North Wales. I paint birds, mostly in oils on hand stretched canvas – birds are an endless source of interest and fascination, and I am particularly inspired by the works of Eric Ennion, who said that the essential motive in painting birds was not to portray the species in general but to capture the essence of 'that particular and individual bird alive before you while you sketch'."
Myfanwy Powell
Myfanwy has always been captivated by horses, having ridden all her life. She regularly competes on her own horse, Rebel, who has also been the subject to many of her paintings. Her love of painting horses comes from the relationships and friendships she's built with them over the years, and the fascination with their movement and physiology. Myfanwy also hopes her works reflects the incredible bond horses have had with mankind over thousands of years; a bond which continues to this day.
Alison Holt
"Textiles has been my passion for many years. I aim to make a connection with people through my work, to transport them to a place and a moment in time: and to feel the calmness and serenity in each piece. I am inspired by the detail in nature, the patterns, rhythms and textures. I want to create an emotional response to the landscape that is important to me."
Lesley Fisher
"The desire to paint began at the age of thee when I drew and painted on my bedroom walls! Using various media including acrylics , mixed media and watercolour , I enjoy painting landscapes, seascapes, still life and cockerels."
Richard Dupuy
I moved to north Wales in 2010 and some of my work is inspired by the landscape, the sea and the sky in this beautiful part of the UK. I tackle any subject that interests me.
I paint with the best quality canvas and oil paints using a simple palette, yellow ochre, cobalt yellow, burnt sienna, payne's grey, cobalt blue, cerulean, and raw umber.
Rosie Davies
My inspiration is drawn from the lush valleys and mountainous landscapes that surround me.

Jim Teague
I was briefly at art school in Southampton in the early 80s, but my working life was spent driving trains. This gives me a useful insight when working with that subject and I still drive an engine occasionally on the heritage railway near the gallery.
After college I continued to make art and have experimented with most media but mainly use oil paint. Like many artists, I began with a realistic style and loosened up as my style developed.
Clare Wassermann
As I work I listen to music which often comes from Hindu, Buddhist or other Eastern sources. I definitely use the energy of the music as inspiration, whether it be calming or uplifting. I also use ideas generated from my yoga and meditation practice.
Nature and wildlife are important sources of inspiration and mostly my paintings reflect our interconnectedness with all beings – a celebration of life. The work is uplifting and peaceful at the same time.
Rob Baur
Rob's paintings are generally a response to the landscape and atmosphere of rural Wales where he lives. Trees in particular are a source of inspiration, along with the hills and streams and the ever-changing light and colours of the seasons. He favours strong, vivid colours, influenced by the bright warm colours of Bonnard and Gauguin in particular. His paintings often deviate from reality towards a landscape of the imagination, moving from figurative to abstract and vice versa.
John Peacock
John trained in Fashion and History of Costume, his interest has been drawn towards Stitched Collage, with the use of period fabrics, stained and oiled brown paper, coloured papers and newspaper. His work is often enhanced with coloured inks, dye, paint and/or bleach. Main inspiration comes from the countryside, particularly trees and woodlands. Antique embroidery and patchwork, Oriental carpets and rugs often influence the colour pallet used in his work.
Mark Warner
"Sketching is at the heart of my work. This is integral to the development of a piece, many times forming part of the painting itself.
I continue to draw inspiration from the landscape, although subject matter and application at times can be very different.
I adore using colour while interpreting the light, weather conditions and a love for the materials. I work directly in the field (literally on many occasions!) from sketches created outside as well as notes and photographs taken on location then worked back in the studio"
Pauline Jordan
An innate love of experimenting with different textures and materials has taken me down a less conventional path to making art. My inspiration comes from life experiences, memories, music, literature and elements of the natural world. Acrylics are my medium of choice for their versatility and fast drying properties.
Paintings are constructed over a textured ground with multiple layers of thin and thick paint that is washed, glazed, scrubbed, dripped and spattered using brushes spatulas, knives, sponges, fingers. Textures are added using pastes, gels, marble dust, metal foils, various papers, collected natural or man made objects. It is an instinctive and exciting process; the possibilities are virtually endless. Every painting is a personal journey of contemplation and discovery.
Hannah Broadhead
Within a story there is a character that we relate too, a character that may have had a shared experience or emotional state. Using guises from Myths and Folklore, I am able to explore these moments, feelings that can be harder to deal within reality. In the everyday we deal with moments of disenchantment, decisions to be made and issues regarding showing others who we are. My work asks these questions: do you sit and wait for something to happen or do you hold your fate in your hands. The female form is the perfect platform to do this; from the confrontational nude of a femme fatale to the unsure siren who's only security is its beauty. And as an artist I find myself fighting to emerge and so I share these narratives, in every piece there is a feeling that I have experienced.
Susan Mulcock
Susan 'paints with wool' to make felted landscape pictures, taking inspiration from local landscapes: woodlands, waterfalls, wild moors and mountains.
Jane Samuel
My work reflects our journey through life, with forms which are inspired by the coast, broken shells, and the movement of the sea, with its ever-changing effect on the beach it washes over.
"I use black and white stoneware clay to create strong forms that hold fragile shards of black and white porcelain.
Looking deeper into my work it can be said that the fragility of the human mind and body coupled with the unpredictability of life itself, if visualised, are like the broken and fragile shards of porcelain.
Often our fragility is hidden away under many protective layers. These layers are represented by the glaze which, when fired, envelops many of the shards, as the glaze is sanded away the hidden and beautiful imperfections beneath are revealed. These fragile shards are 'held' in strong silence by the forms that surrounds them."
Ava Cooke
Currently studying at Shrewsbury College, I have developed my artistic techniques, especially using oils and graphite. Drawing has been an essential part of the process and moving onto oil paints has created extra layers in my work. What particularly interests me is people and connecting with their emotions. I like creating paintings that hold more than just face value, and I'm interested in how others perceive my work. People engaging with my work is very satisfying.
Reg Lewis
Tim Turner MA (RCA)
Since completing my MA I have exhibited throughout the UK and Europe, regularly in Italy. My work has featured on the BBC and in various publications. Recent commissions include King Orelie Antoine 1st which was unveiled in France in 2016. More recently a life size bronze statue of the war poet Wilfred Owen.
David Bannister
David's love of documenting life, his experiences and imagination is apparent through his drawings and sketchbooks and more recently in his developing portfolio of portraits concerned with social and world order, the role of mass media work and the human condition. David's work is diverse, and his figurative work is contrasted with abstractions influenced by Eastern philosophy and contemporary ideas in science, astronomy and human consciousness.