Opening Times
Gallery : Monday – Saturday 9:30 am to 5 pm
Eatery : Tuesday – Saturday 9.30 am to 4.30 pm
Closed Sundays and Bank Holiday Mondays
Willow Gallery
56 Willow Street
Oswestry
Shropshire
SY11 1AD
Telephone: +44 (0) 1691 657575
Email: willowgalleryoswestry@gmail.com
Established 2011.
The Willow Gallery is a contemporary art space dedicated to displaying works from both local and international artists. A hub for creativity the Willow is Community Interest not-for-profit gallery, converted from a disused car showroom. We frequently hold workshops, talks, live music, events and exhibitions, bringing together creative individuals from the local community and beyond.
We aim to provide a platform for artists and craft people to promote themselves and their work. Hosting both a craft shop and a cafe, the space provides a family friendly atmosphere where you can relax, chat,work and enjoy the art on display. The gallery regularly holds classes and workshops from in house tutors and guest teachers covering a wide range of art and craft subjects. Past workshops have included life class, sculpting, painting, felt making, photography, jewellery making, willow weaving & printmaking. We have a year long schedule of live music evenings and guest speakers.
The Willow Gallery is fully accessible to wheelchair users and people with mobility disabilities and has a unisex disabled toilet. To the rear of the gallery is the Dunbabin Room that is used for workshops and venue for other functions. The Dunbabin Room has ramped access and additional toilet facilities. 
Parking
Our car park is located off Willow Street as you approach the gallery and is available for customers to use during opening hours. The car park has a disabled parking area close to the entrance to the gallery and Dunbabin Room.
Getting to us

Road
Oswestry is located off the A5 and A483. We are centrally located on Willow Street on the towns one way system.
Bus
Wrexham : Bus 2
Shrewsbury : Bus 70
Train
Our nearest station is Gobowen Station, located 4 miles North of Oswestry on the Shrewsbury to Chester line. The number 53 bus runs from Oswestry to the station throughout the day and taxis are also bookable.
Willow Eatery
Open 9:30 am to 4:30 pm for homemade lunches, cakes and a selection of drinks.
The Willow Eatery is a licensed cafe within the Willow Gallery and has the perfect atmosphere to relax in. It is run independently by Lindsay Chaplin of Lindsay's Cakery. Willow Eatery serves a delicious selection of cakes baked in-house, freshly prepared lunches and savoury snacks (A wide selection of gluten-free and vegetarian options are available). Drinks on offer include loose leaf teas, milkshakes and delicious coffee made only using organic milk. Quality ingredients are sourced locally where possible.
For a full menu visit: www.willoweatery.co.uk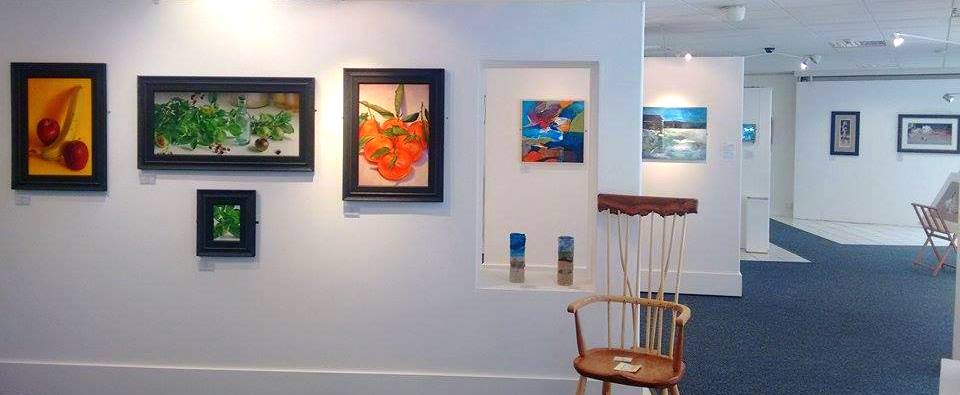 Sign up to our e-Newsletter
If you would like to keep up to date with the galleries upcoming exhibitions and workshops please email us at willowgalleryoswestry@gmail.com to request to be added to the mailing list.
Exhibiting with Us
Please forward us a copy of your portfolio with high quality images along with an artist statement and we will be in touch.
If you would like to meet one of our team to discuss your portfolio please make a prior appointment.
Collaboration with Charities and Education Institutes
Please contact the gallery if you are a charity and wish to work with the gallery. The gallery is proud to have supported the following organisations: Derwen College, Project Group Oswestry, Rotary Club Oswestry, ECTARC Llangollen, RSPCA Stapeley Grange, Severn Hospice.
Work Experience
We offer placements for post 16 College and University students.